Telemed brings the exam room to you.
We are a telemedicine company providing medical expertise OVER THE PHONE. We promise to get to the source of your medical issues with quick and accurate consultations. And the best part? Our world-class physicians CONSULT, DIAGNOSE, and PRESCRIBE without an inconvenient office visit. We're available whenever and wherever you are.

Fill out
Patient Information Forms
Our physicians offer informed medical advice tailored to your specific health needs based on your medical history and other information you share.

Speak with a
Telemed Representative
Telemed is available 24 hours a day, 7 days a week. Call 855-974-6236 for free to have your information verified and be connected with a doctor.

Receive a call
from a doctor
Like an in-person office visit, you'll get a diagnosis and care plan that's just for you. If needed, we'll call-in prescriptions to your chosen pharmacy.
Telemed understands that life gets busy.
Appointments are conducted over the phone for your convenience no software or video equipment required. Need consultation on a twisted ankle? Are your allergies acting up and you need a new prescription? Help is just a phone call away. Our physicians will speak to you anytime, anywhere and get you back on your feet fast.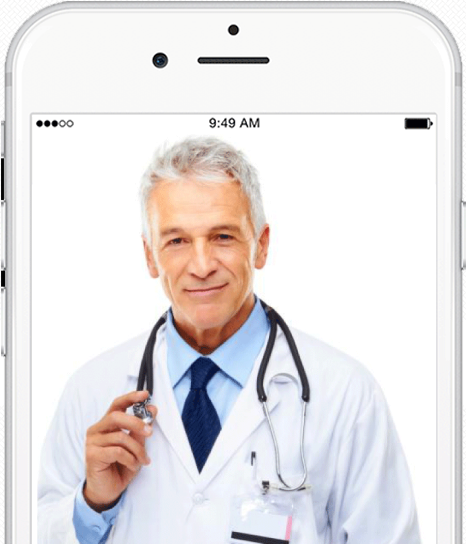 Why People Love Us!
Telemed is a lifesaver for people who are on a tight schedule like me. They just take a bit of information online, then you get a call about some medical questions, then a doctor evaluates your condition over the phone. It's quick and easy, I even got my perscription filled over the phone!

I will never rot in a waiting room again! Telemed is so convenient, I got my antibiotics prescription filled while shopping at the market. It's a very simple process and everyone I spoke to was kind, professional, and helpful. This is truly the way checkups should be done.

I don't know why these types of services aren't more common. I can spend the time that I would have spent at the doctor's office doing other things like housework, catching up on emails, or whatever else I have on my plate.This service has made doctor visits easy and convenient.

If you are someone who values their time, enjoys their flexibility, and strives for efficiency, then this is the service for you. The process is quick and painless. There is little paperwork and you could do everything from the comfort of your own home!

Apparently doctors DO still make house calls. Sure maybe not the way they used to but it was still nice to not have to take a couple hours out of my day just to get my prescription. It was nice to skip the traffic and waiting room and just get to the point. I can see myself using this service for years to come.